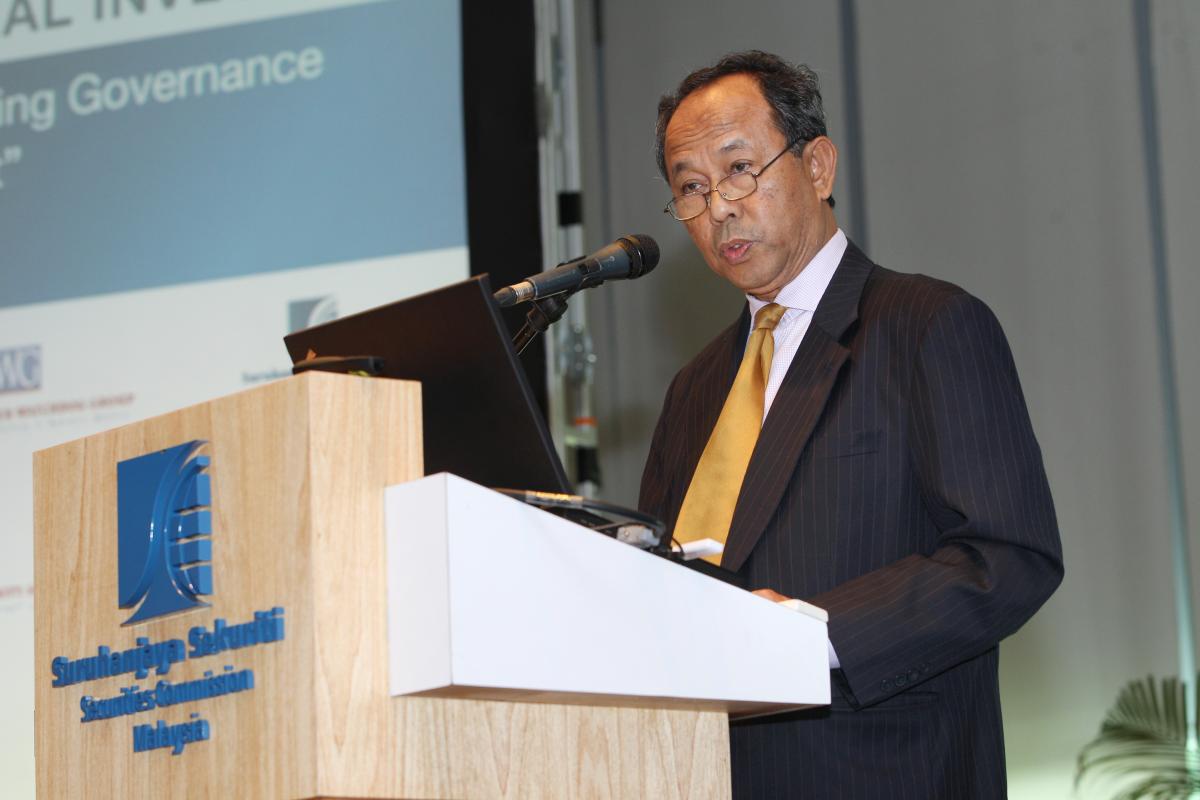 On behalf of the Board of Directors, I am honoured to present the Annual Report of the Minority Shareholder Watchdog Group (MSWG) for the financial year ended 31 December 2015.
It was another busy year for MSWG as we persevered in our objective of promoting good corporate governance practices and encouraging active participation by minority shareholders to exercise their rights to protect their investments, amidst a challenging global environment of plunging commodity prices and geo-political developments to an already weakening ringgit. On the global corporate front, a few prominent international listed companies came under heavy scrutiny after serious lapses in corporate governance. In this connection, MSWG's efforts during the year, reiterating its commitment to ensuring the adherence of good practices is noteworthy. The later part of the year continued to see our macro-economic environment come under further siege from many fronts, with the lower energy and commodity prices and higher levels of debts. Repercussions on the economy were felt, with corporate earnings particularly from sectors like Oil & Gas services, property, banking, plantations, retail, aviation and leisure/ gaming reporting year-on-year declines.
In this regard, the economic restructuring, financial reforms and development undertaken by the country during the last two decades, allowed us to weather the challenging operating environment. Hence, despite a slower global growth of 3.1 per cent, our economy grew between 4.5 to 5.5 per cent in 2015. Malaysia's capital market currently stands at RM2.82 trillion, almost three times the size of the Malaysian economy, with the equity market at RM1.74 trillion and the bond market at RM1.08 trillion. Growth in the fund management industry has been an important driver of capital market deepening, with RM630 billion under management at the end of 2014. International reserves remained high at RM418 billion in October 2015 while inflow of Foreign Direct Investment remained strong at RM22.4 billion. The 11th Malaysian Plan put on paper some of the bold measures to take the next steps in our country's journey to becoming an advanced nation that is inclusive and sustainable. Under the Plan, the Malaysian economy is expected to expand 5 to 6 per cent a year based on sustainable domestic demand and increasing contributions from the external sector.
CORPORATE GOVERNANCE LANDSCAPE AND DEVELOPMENTS 2015
In the area of investor stewardship, the Malaysian Code for Institutional Investors which was formulated by the major institutional investors led by MSWG and launched jointly by the Securities Commission and MSWG in 2014, sets out broad principles of effective stewardship. It includes monitoring and engagement with the investee companies and managing conflicts of interest. The Code underlines self-governance taking on a bigger and more pro-active role, thus, further developing the corporate governance landscape in the country.
Combined efforts from minority shareholders is expected to force positive changes and influence and drive performance and accountability at board levels, thereby, driving long-term and sustainable shareholder value.
ESG or environmental, social and governance is one of the principles that the Code highlights. Sustainable and responsible practices bycorporates have become main stream strategies that investors are beginning to put more focus. In the same vein, corporates must seriously relook at their objectives to make responsible decisions to attract the right kind of longer term investors. The remarkable growth in the global sustainable investments market, which rose from USD13.3 trillion in 2012 to USD21.4 trillion in 2014, a compounded annual growth of 27 per cent and it now accounts for more than 30 per cent of professionally managed assets is a testament to smart money's focus on sustainable issues. The Code exhorts institutional investors to become signatories so that commitment is shown to their beneficiaries and to the public at large on the best practices adhered by these funds.
In this connection, Kumpulan Wang Persaraan (Diperbadankan) or KWAP took the lead in 2015 by becoming the first asset owner in Malaysia to become a signatory to the Code, and more recently towards the end of the year, ValueCap Sdn Bhd became the second asset owner to become a signatory. Altogether, we now have eight asset managers and asset owners as signatories to the Code. They include Hermes Fund Managers, Aberdeen Asset Management, Legal & General Investment and BNP Paribas Investment Partners, among others, together having funds under management surpassing RM3 trillion.
July 2015 saw the establishment of the Institutional Investor Council of Malaysia, chaired by the CEO of KWAP. The objectives of the Council among others were to represent the interests of institutional investors in Malaysia, and to be the platform to influence good corporate governance culture by PLCs and in addition to advocating the adoption of the Code among themselves as well as other institutional investors. This is a timely move for institutional investors as an influential group to play a bigger and more meaningful role in governance, stewardship and responsible investments.
Starting 2015, PLCs are being required to disclose diversity policies, including those relating to gender, age and ethnicity, in the workplace and on their boards. Institutional investors are gradually consciously increasing investments based on sustainability and diversity considerations.
MOVING AHEAD
It is my hope that 2016 will herald a new era in corporate governance, that of effective stewardship, both corporate and investors. All shareholders must play their rightful role as stewards, seeking justifications and clarifications on relevant items including corporate proposals, directors' remuneration, time commitment of directors and board diversity, among others.
I firmly believe that greater transparency and active shareholder engagements will lead to more responsible company behaviour and ultimately, more value creation. It's about being responsible and transparent on the actions taken; it's about accountability and having a more purposeful oversight both by the board of companies and shareholders based on solid principles that are aligned to the company's best interests.
MSWG's relevance in the capital market and its role in bringing about awareness on company matters had been critical in facilitating positive corporate behaviour.
ACKNOWLEDGEMENTS
Firstly, let me take this opportunity to thank the Capital Market Development Fund (CMDF) for its unwavering support of MSWG and funding the bulk of its activities, thus, enabling us to continue with our agenda of strengthening the Malaysian capital market.
I would like to thank all our subscribers for their continued support. My appreciation also goes to the media as well as capital market partners who have played an instrumental role in highlighting corporate governance issues to make our market more transparent.
I would like to further extend the Board's appreciation to the regulators – Securities Commission and Bursa Malaysia, for working alongside MSWG to strengthen the corporate governance landscape in Malaysia. This is in order to bring about greater investor and shareholder awareness and participation thereby creating a more vibrant and informed capital market.
My gratitude goes to the CEO of MSWG whose purposeful determination has helped transform the corporate governance landscape through her efforts in engaging the stakeholders in the capital market, in addition to providing a platform for investor education and investor stewardship initiatives. I am proud to note that she has been appointed as Head of Secretariat and Council Member to the Malaysian Institutional Investor Council in recognition of her work on this initiative and her wide experience in this field.
My deepest appreciation goes to the management, staff and associates of MSWG who worked hard during the year to achieve the objectives of the organisation in raising the standards of corporate governance and transparency. Their commitment and dedication has brought MSWG to new heights of professionalism within the Malaysian capital market.
Last but not least, I wish to thank my fellow Directors for their invaluable contribution and commitment during the year.
On behalf of the Board
TAN SRI DATO' SERI DR SULAIMAN MAHBOB
Chairman
1st March 2016