The report on Investor Stewardship and Future Key Priorities is a collaborative effort among the Institutional Investor Council Malaysia (IIC) members. The IIC provided the overall strategic direction for the formulation of the report while the Working Group provided relevant feedback. The writing, research and coordination of the entire report was undertaken by the Secretariat led by the Working Committee Chair.
The report outlines the current state of play of institutional stewardship in Malaysia, the level of engagement undertaken by its member organisations and the observations on the corporate governance of the investee companies. The report concludes with the strategic priorities of the IIC for the next five years (2016-2020).
The Report comprises five chapters:
·         Investor Stewardship Developments: A Global Overview
·         State of Play on Institutional Stewardship in Malaysia
·         Stewardship and Engagement
·         Observations on the CG of Investee Companies
·         Strategic Priorities (2016-2020)
The above chapters will provide readers with an indication of the extent of the stewardship and engagement activities undertaken by institutional investors as well as their observations on corporate governance practices of their investee companies. The findings on stewardship and engagement and the observations on the CG of investee companies were based on a survey of seven member organisations of the IIC, namely Employees Provident Fund, Permodalan Nasional Berhad, Kumpulan Wang Persaraan (Diperbadankan), Lembaga Tabung Haji, Khazanah Nasional Berhad, Social Security Organisation and Aberdeen Asset Management Sdn Bhd. The final chapter concludes with the IIC's collective view of its strategic priorities for the next five years.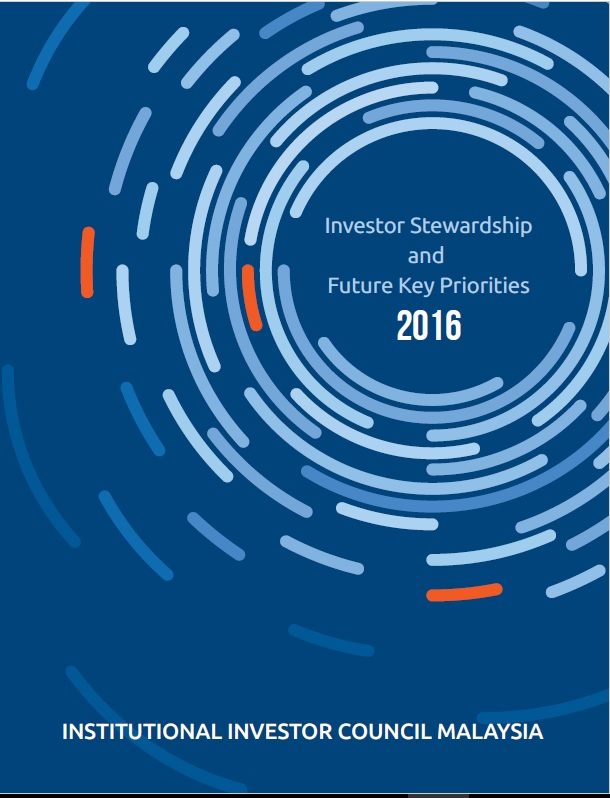 Click on the image to download the Investor Stewardship and Future Key Priorities Report 2016